Synclavier Go! now comes with an AUv3 client
One of the earliest digital synthesizers is now up-to-the-minute with tech. Authentic Synclavier sounds can be triggered from an AUv3 client running inside an iPad DAW, such as GarageBand, NanoStudio 2, BeatMaker 3, and so on. If this isn't significant in the world of synthesist, we don't know what is.
By popular demand, and after months of careful work by the team at Synclavier Digital, the dream of many iPad music producers has become a reality. This milestone opens Synclavier to massive potential. It's now trivial to add Synclavier clients to tracks inside a DAW, record MIDI, add effects, move panning and levelling, rinse and repeat. And it's fun!
Nothing quite sounds like a Synclavier. With this revitalisation of the brand and the tech, we hope to see a "new wave" (another emergence) of Synclavier sounds in music and soundtrack production. And to mark the occasion, we've included another Artist timbre library, from renowned sound designer Indie Moon. His truly eclectic timbres aptly show-off what the Synclav DSP engine is capable of.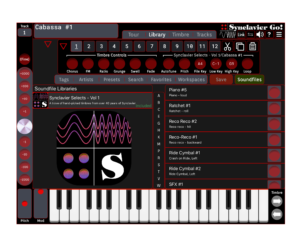 The AUv3 client, now bundled with Synclavier Go! has been provided as a free update. Not only this, but the price for new users has been reduced to $19.99 USD. Have the management at Synclavier Digital gone crazy? No…well, maybe. We just want to provide the best experience at the lowest price we realistically can, to get as many people on board as possible: lowering the barrier to entry for professional-level sound design has always been a key motivation for us. We want to inspire a new generation of sound designers and musicians who maybe don't have the money for a laptop or complete studio set-up but they have an iPad and set of headphones. It made sense to price Go! congruent with those potential customers.
And to put the icing on the cake, the ability to load soundfiles to partials has been thrown in there too. With these two features, Go! users are going to want for nothing. The proposition of Synclavier on an iPad has reached a Zenith. We live in a fantastic era: there's never been a better time to get into music-making.
PS: The Synclavier Knob is going on sale today for a limited period of time.