This is our breakdown of sequencers for iPad. Some are also available on iPhone, but we're focussed on iPads here.
iPad sound-making has improved a lot since the early days of iOS, but what about music-making? You need to sequence those sounds, if you want to build a track, and what better way than to do this right on the iPad, keeping your music portable. So, here's a quick rundown of selected iPad apps that support sequencing of notes that they can send to other iPad apps, such as synths. We take a look at basic step sequencers, all the way up to fully-fledged apps.
Low Budget
There's some great software available on the iPad for not a lot of cash. This is great news for Synclavier Go! users that want a quick and simple setup to get creative with.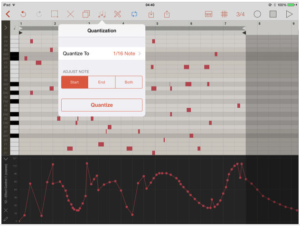 MIDI Pro is a real budget option at only $3.99 USD. It supports a good range of features. Step recording of up to 16 channels, that can be routed through virtual MIDI to other apps capable of IAA. It works with Synclavier Go! well. You can route in an external MIDI keyboard. The sequence editing is pretty cool too. You can pinch to zoom, and there are simple copy, cut, paste and other functions. Take a look at the demo video, which gives you a good run down. One problem we found was that the importing of MIDI files didn't always work too well, and we did get it to crash very occasionally. If this app was rock-solid, we could unreservedly recommend it, but at $4, it's not to be overlooked for beginners.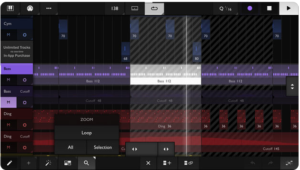 Xequencer MIDI Workstation is a more feature-packed app, but still focussed on MIDI and sequencing. There are no sound engines built-in. There are more options when it comes to importing and exporting files, and more ways to input notes. It costs more than MIDI Pro, at $5.99 USD, and beware, the base version only comes with 4 tracks. There are in-app purchases for a moderate sum that can enhance the app to your needs. It is, however, updated regularly, so the dev team are supporting it well. This video goes over the features nicely.
Special Mention: Fugue Machine
Medium Budget
When you get a bit more serious with music-making, you might want a more comprehensive app for sequencing.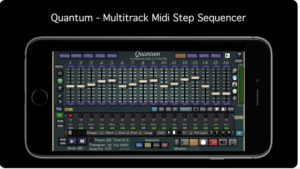 If you want more of a step sequencer for your arrangements, rather than a track sequencer, check out Quantum. It is a sophisticated step sequencer with a mixer with a lot of depth. The sequencing has oodles of options, and it can integrate with other apps through CoreMIDI, Audiobus, AU, etc. This is $9.99 USD. This tutorial video explains the features.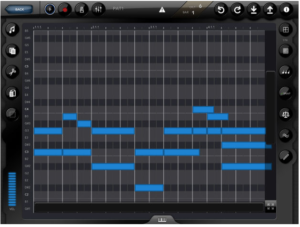 Genome MIDI Sequencer is a pattern/step sequencer that is picking up steam. Priced at $13.99 USD. It's interface is cell-based and simple to use. it supports CoreMIDI and Ableton Link. It also sends and receives MIDI transport events (MMC) which is nice. It has some good reviews, and you can see an overview of the features in this video.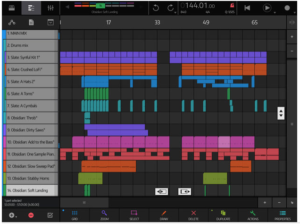 Nano Studio 2 $24.99 USD is a very good DAW for not a lot of money. It has a clean interface and does a lot of things well. Lots of people like the MIDI editing it offers and it sports a decent digital synth too. Check out the manual on MIDI instruments here. It's been used with Synclavier Go! in some of our presentations.
Special Mention: Thesys
Big Budget
The price jumps up pretty quickly in this bracket, but the apps in this price range don't just do sequencing, and just like Synclavier Go!, are just as comfortable in the studio as on the road.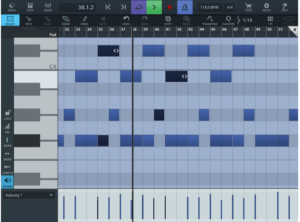 Cubasis 2 has long supported MIDI input and output, as well as Audio tracks. This isn't just an elaborate sequencer, it has tonnes of features, including built-in synths and effects. If you record live music, as well as sequence drums and synths, this is worth looking at. It's $49.99 USD on the app store. You get a lot with the basic version, and plug-ins are available as in-app features when you're ready to expand. It's very stable and backed by Steinberg. Their video gives an overview of the MIDI editing facilities, as well as showing off some of the other built-in stuff.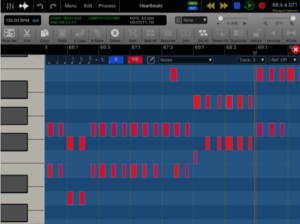 Auria Pro is another option worthy of consideration. Much like Cubasis 2 and Nano Studio 2, it's a DAW on an iPad. It has an excellent range of filters and effects as well as audio and MIDI tracking. It's $49.99 USD, but will require in-app-purchases for some advanced things. This video goes into the sequencing side of Auria Pro, as well as covering audio tracks and sampling. NB: The entry-level Auria and Auria LE don't support MIDI sequencing.
Special Mention: Beat Maker 3
In Summary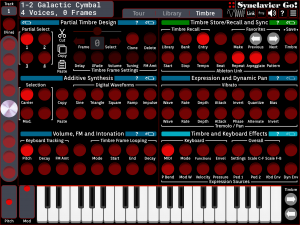 All of the above sequencer apps will work well with Synclavier Go! to send virtual MIDI, for up to 16 channels, each one mapped to a Synclavier timbre. Which one you chose, will depend on your needs, but any will help you create a portable sound-making studio. All you'd need to add is a set of headphones, and your iPad with Go! is a truly portable instrument. Of course, you could also add a MIDI keyboard to play and record the MIDI notes and expressions into the sequencing app, and/or play along with your sequencer. And, if you prefer, you can use hardware sequencers with Go! (through the camera kit or USB-C connection), but that's the subject for another post.
Did we forget to include any useful iPad sequencing apps? Please let us know in the comments.