Synclavier® Touch for iPad
Synclavier® Touch is a new app from Synclavier Digital that provides a complete touch-screen implementation of the Velocity-Pressure Keyboard button panel.
Synclavier® Touch uses MIDI messages to control your Synclavier³ installation over a WiFi network. Read all about it on our Synclaiver® Touch Page.
Available for immediate download from the Apple App Store. Free to try; $79.00 USD in-app purchase required for full functionality.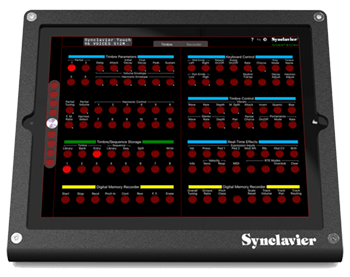 Replace Your Termulator!
Termulator, formerly N.E.D. Startup, was an exciting app in its day, especially for those of us that remember back that far! But Termulator was based on Apple's ancient QuickDraw technology and no longer functions in Mac OS 10.11 and later.
To the rescue - The latest release of Synclavier³ is available as a special "Termulator" license code version for $49.00 USD. Select your Serial Port from the Control Menu, and - voila! - an instant modern Termulator for your original Release M/Original Keyboard or PSMT system. VK on the fritz? No problem, you can use Synclaiver® Touch to fully operate your system over the original D50 Serial Port with this latest version of Synclavier³ (Real Time Release 3.2 or later required for Synclavier® Touch compatibility; Mac OS 10.8 or later required for Synclavier³).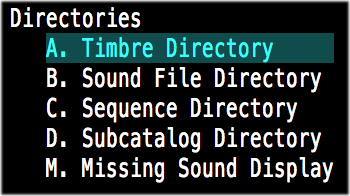 Synclavier iPad Stand
Now available in the Synclavier Digital On-line Store, these elegant and functional iPad workstations are custom made for Synclavier Digital by Heckler Design in the USA.
Use them to set up a second VK workstation near your MIDI keyboard, or even downstairs on your Steinway Model D.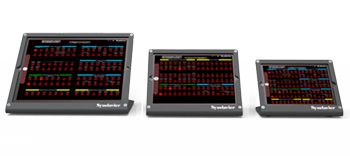 Synclavier TUFFLabel
These custom labels by TUFFLabel feature the original Synclavier logo and are suitable for your own iPad stand, MIDI Keyboard, or even your computer monitor.
Tough chemical-resistant stick-on label 0.6" x 2.6" goes anywhere - it might even give your MIDI keyboard a whole new sound!
USD $20.00 - Order now in our on-line store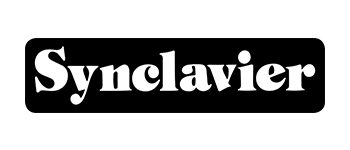 Breaking News !! -- This story is TRENDING !! -- Synclavier® enthusiast and musician Michael Turner-Craig has uncovered the Rosetta Stone for the Synclavier® II Timbre language! Check out this enjoyable video featuring Arturia's Synclavier V layered with an original Synclavier® II Release G system. Bandwidth to spare? View this gem in full 1080 HD in our pop-up HD Video Player. Check out Michael's other videos at his 100 Things I Do YouTube channel. Thank you, Michael!
New Album from Michael Whalen
Synclavier virtuoso Michael Whalen switched to Synclavier V during 2016, and you should hear his first CD made with this virtual instrument.
"Dream Cycle" is music that is designed to inspire rest, relaxation, wellness and meditation. Using a combination of state-of-the-art ambient sounds, vocalists and beautiful melodies, Michael combines well-known music with his own gorgeous compositions. Check out The Distant Light music video!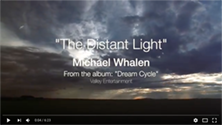 Synclavier V Music Demo by Hans Holema
Hans Holema has created a series of video tutorials for Synclavier V. Check out his mini-music-video to see a fine example of what Synclavier V can do in the hands of a skilled musician. I can't wait for the LP version!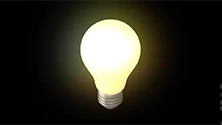 Synclavier V
Software Musical Instrument Recreates the New England Digital Synclavier® II Complete with Partial Timbres, FM and Additive Synthesis, 400+ Amazing Timbres and Onboard Effects
A joint development between Arturia and Synclavier Digital, the Synclavier V Software Instrument brings the incredible sounds of this wonderful instrument to your computer or digital audio workstation. Includes the Synclavier V standalone application, plus Synclavier plugin for VST, AU, AAX and NKS.
12 months in the making, you can learn all about it on our Synclavier V Software Instrument and Plugin Page.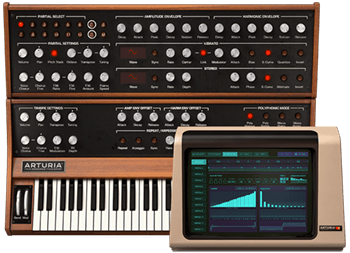 Full-featured time-limited demo available for immediate download. Try it!
Now for the realy big news: The Webclavier™
Virtual Musical Instrument
by Synclavier Digital
Webclavier Crowdfund is now 100% funded!
The Webclavier Virtual Musical Instrument is a new initiative by Synclavier Digital to bring the incredible sounds of Synclavier® II to the World Wide Web!
By harnessing the power of HTML5 and the Web Audio API, the Webclavier will synthesis the historic Synclavier® II FM sounds right in your browser. Learn more and try out the prototype at our Webclavier Virtual Musical Instrument Page.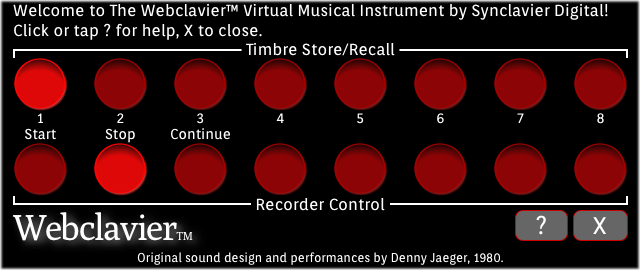 | | |
| --- | --- |
| View this page in | |
| عرض هذه الصفحة في | |
| Se denne side i | |
| Sehen Sie sich diese Seite in | |
| Ver esta página en | |
| نمایش به زبانهای | |
| Voir cette page en | |
| इस पृष्ठ में देखें | |
| Lihat Halaman ini dalam | |
| Visualizza questa pagina in | |
| このページを表示します。 | |
| 이 페이지에서 보기 | |
| Bekijk deze pagina in | |
| Vise siden i | |
| Zobacz Tę stronę w | |
| Ver esta página em | |
| Vizualizează această pagină în | |
| Просмотреть эту страницу в | |
| Visa denna sida i | |
| ดูหน้านี้ใน | |
| Bu sayfayı görüntüleme | |
| Переглянути цю сторінку в | |
| 查看此页中 | |