Synclavier Regen Firmware Update
Check your current version on the Setup page, accessed from Home, and if you're not up to date, we recommend you download the latest firmware from the link below:
download Firmware Update version 1.07  MD5=0b622d15e1f7236d3f264c0ce9ac6ef9
Instructions
Installing a firmware update
• Download the file SynclavierRegen.update using the link provided above.
• Copy the file to the top level of an SD card. This should be formatted as FAT32.
• Safely eject the SD card from your computer and insert it in your Regen.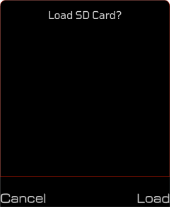 • Tap Load when prompted to load the user card.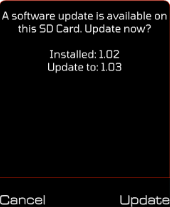 • You will see the update page if your current version is lower than the one on the SD Card. Tap Update to begin the process.
Be patient. The update can take up to 2 minutes.
• Power-cycle the machine when prompted. You can then eject the SD Card from Regen.
• Delete the SynclavierRegen.update from your SD card when done.
Release Notes
v1.07
—–
* Synclavier Knob now works on scroll screens
* MIDI patch change working correctly
v1.06
—–
* Fixed bug where overdriven FM Ratio could cause system failure
* Fixed bug where, when using multiple tracks, modifying certain filter mappings while playing notes could cause system failure
* Added support for different SD Card formats
* fixed issue where "update in progress" screen didn't always show during firmware updates
v1.05
—–
* removed duplicate kalimba samples
* fixed bug that caused some controller (mainly mod wheel) start positions on certain timbres to be incorrect
* fixed bug that intermittently froze system in DAW mode when Bluetooth left on from previous Controller mode operation.
v1.04
—–
* faster loading of SD cards with many samples (using .tsv files)
* fixed issue with certain USB hubs not connected on startup
* fixed rare note chance bug when bombarded with MIDI notes.
* more microtonal options inc ability to load Scala .scl & .kbm files
* improved Session button navigation
* improved Filter/Search
v1.03
—–
* improved memory management and auditioning of large samples (100+ MB)
* USB power overload message now displayed
* added INHALT timbre library
v1.02
—–
* initial production release
v1.01
—–
* beta testers release