Introducing
Synclavier® Touch
Full Remote Control of
Synclavier³
The STACO buttons have met their match!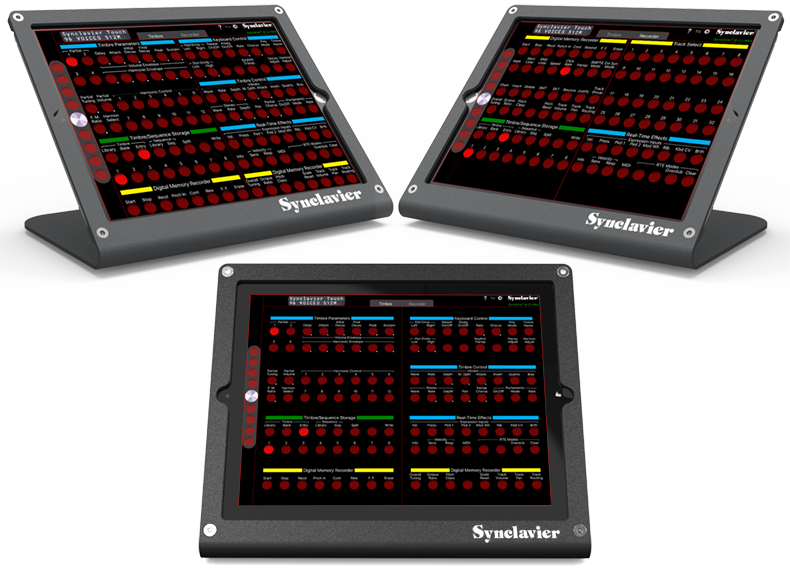 Synclavier® Touch for iPad
This new app from Synclavier Digital is now available in the Apple App Store.
Synclavier® Touch is a new iPad app that faithfully recreates the original Synclavier® Velocity-Pressure Keyboard button interface using modern touch-screen technology.
Synclavier® Touch communicates with your Synclavier³ installation using custom MIDI messages. The integration with the Synclavier® hardware is complete - touching a button on the iPad lights the button on the VK for example.
Shown with optional Synclavier iPad frame. Free to download and try; $79.00 USD in-app purchase required for complete functionality.
Synclavier iPad Stand
Now available in the Synclavier Digital On-line Store, these elegant and functional iPad workstations are custom made for Synclavier Digital by Heckler Design in the USA.
Use them to set up a second VK workstation near your MIDI keyboard, or even downstairs on your Steinway Model D.
Evolution of the Synclavier® Data Wheel
The unique Synclavier® Data Wheel was as functional as it was revolutionary when it was introduced in 1979. The Synclavier® Data Wheel is a rate-of-change controller, not just a simple dial. Close your eyes and let your ears design the sound.
Synclavier® Touch reinvents this mechanical marvel in an all new paradigm. The only thing missing - for us hardware diehards - is the gentle crinkle of the springs underneath the knob assembly. Look for that in release 2.0!