What Is Synclavier³ ?
Synclavier³ is a path to keep your old Synclavier hardware operating. Mitch Marcoulier and Cameron Warner Jones have created a software release and a hardware upgrade that connects the original Synclavier® hardware and voice cards to the latest Macintosh® computers.
The Synclavier³ Application for Mac OS X (Termulator) is a rewrite of the user-interface portion of SynclavierX using the latest and greatest Mac OS "Cocoa" framework. So it will work on future Mac OS's and it removes some of the limitations of earlier releases – such as the 9 GB hard drive limitation for example. Synclavier³ loads sound files directly from your Macintosh hard drive or network – no need to use "image files" or "optical disk images".
You can purchase this Termulator separately — here —  and it comes bundled if you purchase a hardware solution.
If you need to update your installation you can find the latest build on our Updates and Downloads page.
On the hardware side we have created a replacement for the obsolete PCI-1 interface card that is based upon PCI Express, and is compatible with the latest Thunderbolt™ Macintoshes by using a Thunderbolt-to-PCI-Express adapter.
To date we have installed 30 BTB-1 systems around the globe; read the reviews on the independent Facebook Page for more details. We still have some additional production units available for sale which you can order below.
For documentation and how-to videos, please see our support page.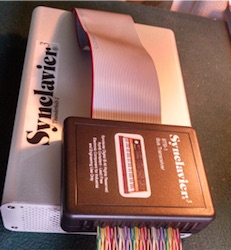 A BTB-1 Installation requires a Digital IO Card, a BTB-1 Buss Transceiver, a twisted pair cable and a D0-PCI Interface Card. Photos of the component pieces are on our hardware identification page.
The BTB-1 Bus Transceiver and the Digital IO Card are modern production components and can be manufactured as needed. If you are upgrading from an earlier Synclavier® PowerPC™ or SynclavierX installation you may use your existing cable and D0-PCI card. The D0-PCI card requires a modification to work with the BTB-1 which you can order below.
We have a limited number of new D0-PCI cards available for purchase. They are expensive to manufacture due to the difficult procurement of the through-hole integrated circuits used on the board.
A custom-assembled Magma ExpressBox1T Thunderbolt™ to PCIe Expansion chassis is available for $495* additional. Shipping charges for the expansion chassis are $25.00 in the US, $55.00 internationally*. Full payment will be required before shipment. As this is a custom-manufactured product, all deposits are non-refundable. Contact us if interested.
*prices in USD
System Requirements – Synclavier³ requires a Mac capable of running Mac OS X 10.8 ("Mountain Lion") or later. That includes most Macs from 2008 on (check this link for details). For the BTB-1 you need a Mac that can connect to PCI Express; that precludes the early iMacs and Mac Minis even though those machine can run 10.8. For iMacs and Mac Minis you would need a Thunderbolt™-capable Mac and a Thunderbolt™ to PCIe Expansion chassis. Some pre-Thunderbolt™ MacBook Pros could use an ExpressCard/34-to-PCI-Express adapter. Mac Pros 2008 or newer should support the BTB-1 directly via PCI Express (up through Mid-2012) or via Thunderbolt™ (Mid-2012 and after).
BTB-1 Bus Transceiver Package. Includes:

BTB-1 Bus Transceiver
PCIe-2 PCI-Express Digital IO Card
Synclavier³ Software License
Installation and Setup Support Incident

$1,199.00 USD Plus Shipping

You will need to purchase a D0-PCI Modification or a New D0-PCI Interface Card to complete your installation.

D0-PCI Upgrade Modification. Includes:

Factory modification to your existing D0-PCI Interface Card

$95.00 USD Plus Shipping (shipping included with BTB-1 purchase)

D0-PCI New Production. Includes:

New D0-PCI Interface Card

$750.00 USD Plus Shipping (shipping included with BTB-1 purchase)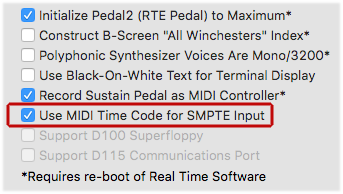 MIDI Time Code Comes to Synclavier³ This long-awaited feature for Synclavier³ is now available in build 41.Send MIDI Time Code to Synclavier³ and – voila! – instantaneous seamless tracking of your digital audio workstation application.
MIDI Time Code can be received by Synclavier³ from a real hardware MIDI port or a MIDI Network Session using the MIDI Patching Window. Alternatively, an application running on the same Mac as Synclavier³ can feed MIDI Time Code directly into the MIDI Time Code Virtual port in Audio MIDI Setup.
Requires Build 40, and be sure to run the full installer.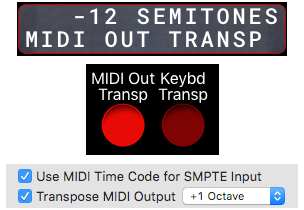 MIDI In and MIDI Out have greater transpose capability in Build 44.
• The VK keyboard and MIDI keyboard input can be transposed up or down using the Keybd Transp button in Synclavier® Touch (labeled Cut/Boost on the VK). The transposition is applied directly to the VK itself and to MIDI input to the keyboard; MIDI sent directly to the Sequencer tracks is not affected. The transposed note gets recorded in the Sequencer.
• All MIDI output can be transposed up or down using the Transpose MIDI Output preference setting. This transposition is applied to all Note On/Note Off/Individual Pressure events sent from Synclavier³, both when played live from the keyboard or played back by the Sequencer.
• The MIDI Output for every track as well as for the keyboard can be individually transposed up or down using the MIDI Out Transp button (labeled Filter Select on the VK). This transposition is applied to all Note On/Note Off/Individual Pressure events sent from the keyboard or Sequencer track; the setting is stored with the track.
Requires Build 44, and be sure to run the full installer.
Installation of the D0-PCI Card in your Able Computer
The D0-PCI Card can (theoretically) go in most any slot. Be sure to plug it into your Computer Bin; the card will be damaged if plugged into the Multi-Channel or FM bin. Everything must be powered off. Be careful bot to loosen Any flat cables.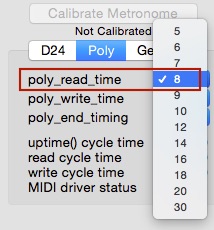 Bringing up the hardware for the first time
The BTB-1/D0-PCI hardware has been successfully installed on 6 different Synclavier® systems to date.
On two of the systems the power supply voltages were noticeably out of adjustment; the test programs indicated data errors until that issue was resolved. If you decide to adjust your power supply remember that the digital voltage should be 5.0 volts at the card, which means it should be slightly higher at the supply or on the backplane. Also, of course, remember that there are lethal voltages within and near the power supply that persist for several minutes after the power is removed. Power supply adjustments should only performed by a qualified service technician.
Two of the systems required slightly longer bus timings – 8 cycles for the poly_read_time in one case, and 12 cycles for the generic_write_time in one case. If the BTB-1 Test Program does not see the poly memory adjusting these two timing settings may correct the problem.
Refer to the installation pdf for more technical details.
General notes:
• I have only tested the BTB-1 hardware with Mac OS 10.9 and Mac OS 10.10. Mac OS 10.8.5 is supported in theory, but I am not able to test that hardware configuration with my equipment.
• Running the BTB-1 Test Program (available from the Control Menu) is an important step in verifying your hardware installation. Please run the BTB-1 Test Program before starting the Real Time Software for the first time. The LOGGER test program is critically important for verifying the bus timing settings. You can run LOGGER from the Control menu. The MULTICHN test program (in W0:DIAGBINS:MULTICHN) should be run on any system with a Multi-Channel Distributor.
• Please be aware that the Sound File Import from D24 SCSI Devices is extremely slow – about 10 seconds per megabyte, or about 3 hours for 1 gigabyte. Importing from Disk Image Files created earlier with InterChange™ 2.0 or InterChangeX is quite fast; it is just the D24 SCSI Card that is slow. Mitch has converted many of the standard N.E.D. Libraries into Mac files; please contact him directly if you wish to learn more. Fortunately the import only has to be done once!
• To transfer a VK Pressure Calibration File (.SMAP-7) from an earlier installation:
      – Use the latest Synclavier³ version to import your file from your working W0: installation to your Mac;
      – Look for the file named "*SMAP-7.sdat". The "." is changed to a "*" on the Mac otherwise the file would be hidden, and the file extension is added during import;
      – Move the "*SMAP-7.sdat" file to be at "~/Documents/Synclavier³/W0/*SMAP-7.sdat"