Synclavier Touch
Full Remote Control of Synclavier³ as an iPad App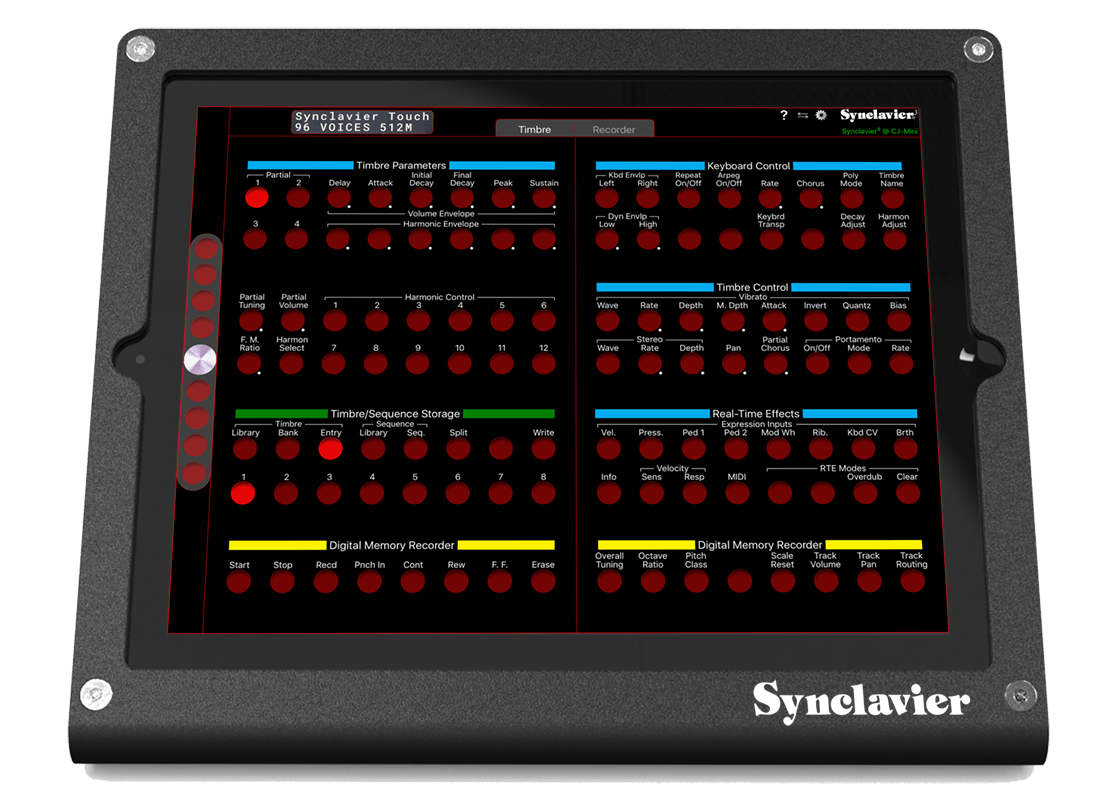 Synclavier Touch for iPad
This app from Synclavier Digital is now available in the Apple App Store — follow this link.
Synclavier Touch is a new iPad app that faithfully recreates the original Synclavier VPK button interface using modern touch-screen technology.
Touch communicates with your Synclavier³ using custom MIDI messages. The integration with Synclavier® hardware is complete — touching a button on the iPad lights the button on the VK, for example.
Free to download and try; $79 USB in-app purchase for complete functionality.

Evolution of the Synclavier® Knob
The unique Knob, or Data Wheel, was as functional as it was revolutionary when it was introduced in 1979. The Synclavier® Knob is a rate-of-change controller, not just a simple dial. Close your eyes and let your ears design the sound.
Synclavier Touch reinvents this mechanical marvel in al all new paradigm. The only thing missing — for us hardware diehards — is the gentle crinkle of the springs underneath the knob assembly.
Update
and incase you didn't already know, the same touch software has been used in the latest Synclavier Go! and Synclavier Pocket! apps for iPad and iPhone/iPod Touch respectively.
and there's more. The hardware knob has been resurrected as a standalone product, imaginatively named, Synclavier Knob. This new machining faithfully reproduces the original design down to the millilitre, and works with Synclavier Touch as well as Synclavier Go! and Synclavier Pocket!