This is the original PCI-1 card designed in 1999. It requires a half length "Classic" PCI slot in your computer or in an external "Classic PCI" chassis. It can be used with "PCI-X" and "PCI-Express" computer slots by using an external chassis. It is not recommended for new installations since it cannot be connected to the newer Macintosh® computers.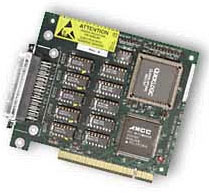 ---
This is the original D0-PCI card. This card plugs into your Synclavier® tower and connects to your Mac with a twisted-pair cable. It can be used with the new BTB-1 Bus Transceiver with a slight modification.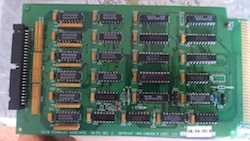 ---
This is our PCI-Express digital I/O card. It plugs into a PCI-Express slot in a 2008 - 2012 Mac®, or into an external PCI-Express chassis connected to a modern Thunderbolt Mac®.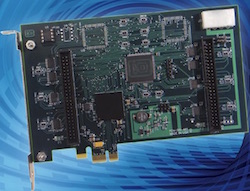 ---
This is our Thunderbolt-1 Thunderbolt-to-PCI-Express Chassis and our first production BTB-1. The chassis connects to a Thunderbolt-equipped Mac® using a Thunderbolt cable. The colored twisted-pair cable connects to the D0-PCI card in your Synclavier® tower.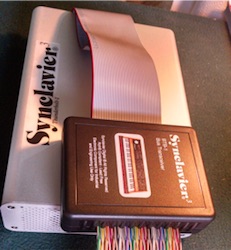 ---